About Kalindi – Located in the heart of Lanzarote, in the town of Tao, Kalindi is an ideal spot to disconnect from your daily routine and reconnect with yourself – relaxing, enjoying nature, eating well, enjoying yourself and learning new things, as yoga and meditation.
Kalindi Lanzarote is a rural retreat and bed and breakfast that offers private rooms with 1 double or 2 single beds, or beds in a 4-bed dormitory.
Kalindi is set in the countryside of the island's unique volcanic landscape and offers communal kitchen and barbecue facilities, shared terrace and landscaped gardens, an outside 'chill-out' area with sofas and puffs and a 20-person capacity yoga and exercise studio.
About Kalindi – Video
Meet ROY AND NOEMI
Our trip started in 2010 when we decided to quit our jobs, home and daily life in Barcelona to travel around the world for two years. We traveled to dozens of different countries, discovering different cultures and sharing in experiences with lots of people, both locals and travelers. We were eager to see the world, to get out of our comfort zone and seek new adventures. On our way back to Spain we discovered Lanzarote, and fell in love with it. It is one of the last paradises in Europe with a permanent 'vacation atmophere'. Here we decided to stop for onward travel, welcoming travelers and sharing experiences, an other way to travel!  This is how our place blossomed, as a space to offer the newcomer what the world offered to us: hospitality, new experiences and sensations…and an ideal spot to disconnect from everything and connect with yourself.
We Know How to Make Our Guests Feel Welcome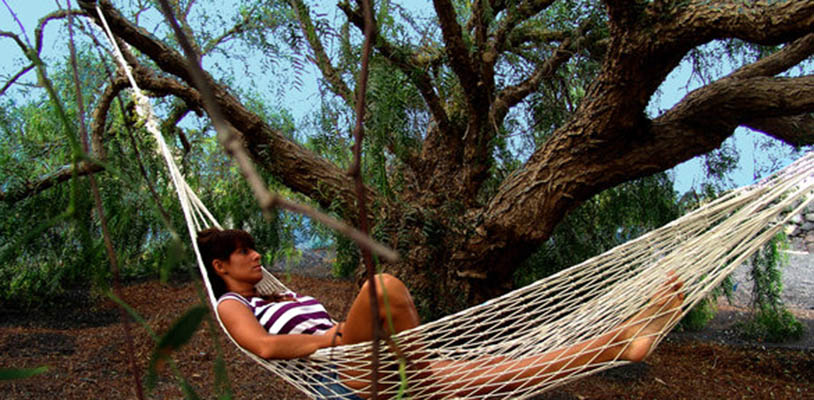 Perhaps the most unique thing about Kalindi however is our atmosphere. As a multilingual team complete with staff and helpers throughout the year, we know how to make our guests feel welcome. Paying close attention to the wants and needs of those who visit us, we're always willing to share what we know about the island and much more besides.
In fact the atmosphere at Kalindi is one best described as 'community-based',where guests can either enjoy their independence at their own pace for a laid-back, private and personal stay.
Or a more sociable one with us and other guests, as we also love to interact and often cook communally (on our outdoor / BBQ and pizza oven), put on workshops or even showoff some of the island (especially for surfing).
We're keen to make Kalindi exactly what you want and need.
Bienvenidos! Welcome! Bienvenus! Willkommen! Benvenuto! Welkom! Ongietorri! Huānyíng! Benvinguts! Kangei! Bem-vindo! Privetstvovat! Tervetuloa!